Team
John Gladki FCIP RPP
President
john@gladkiplanning.com
Mr. Gladki FCIP RPP has forty-two years' experience working with government agencies and private sector organizations on land use and policy planning, urban regeneration, local economic development, affordable housing, development approvals, strategic planning and management. Prior to Gladki Planning Associates, Mr. Gladki was a senior director at the City of Toronto's Planning and Development Department and a principal consultant at GHK International.
Mr. Gladki has worked on the revitalization of Regent Park and Lawrence Heights, the regeneration of Toronto's Waterfront and planning, intensification and implementation strategies in municipalities across the GTA. He has also worked on numerous urban and regional strategic planning and economic development initiatives in cities in the Middle East, Europe, North America and Latin America.
Throughout his career he has focused on expanding planning practice to embrace human rights, economic and environmental sustainability. He is a Fellow of the Canadian Institute of Planners and a Registered Professional Planner.
Andrew Davidge MCIP RPP
Senior Planner
adavidge@gladkiplanning.com
Andrew Davidge is a Senior Urban Planner at GPA with a substantial body of work on healthy communities and urban revitalization. He has provided advice to municipalities across the GTA and Ontario on the use of planning tools – including OP policies, zoning by-laws, CIPs, design guidelines – to meet broad city-building objectives at an area- and municipality-wide scale. Recently, he led the development of a comprehensive planning framework for the Sherway Area in west Toronto which incorporated land use, urban design, transportation and servicing considerations into a long term plan to transition a retail-oriented area to a mixed-use future. In the City of Peterborough, he carried out public processes to create land use and urban design frameworks for two important sections of the downtown: a waterfront neighbourhood and a new pedestrian and cycling corridor. Andrew provided advice to the City of Mississauga on the development of a Community Improvement Plan (CIP) that directs financial incentives to attract office uses into the Downtown, a vital aspect in creating a vital mixed-use urban centre.
Andrew has been the lead author of many reports and studies addressing some of the most pressing issues confronting Ontario municipalities: growth management, climate change mitigation and adaptation, health-supportive built form, and the promotion of inclusive neighbourhoods.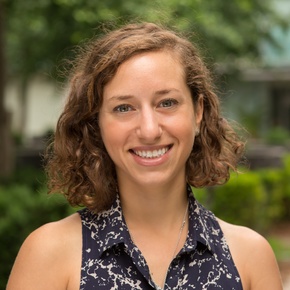 Sara Udow
Planner and Engagement Specialist
sudow@gladkiplanning.com
Sara Udow has been part of the GPA team since January 2016. She brings to the firm her experience with facilitation and engagement, community and land use planning, and policy research. Through collaborations with multi-faceted teams, Sara contributes to a diversity of projects including area planning visions, policy studies, community services and facilities assessments and private sector developments.
Sara has a particular interest in engaging diverse communities in conversations about our cities. Prior to planning, Sara worked in the arts and cultural sector, where she managed the partnerships and community outreach for a large-scale art exhibition focused on cities in transition. Sara has also worked with the Jane's Walk School Edition as a facilitator; assisting high school students to develop walking tours of their school communities. Sara also has a strong academic background in exploring issues of public engagement in the planning process, having written extensively on creative approaches to better connect planners, stakeholders and the public in the planning process.
Sara's experiences working with diverse communities, private developers and different City departments have provided her with a unique perspective on the planning process and engagement. She holds a Masters of Arts degree in Communication and Culture from York University and a Masters of Science in Planning from the University of Toronto.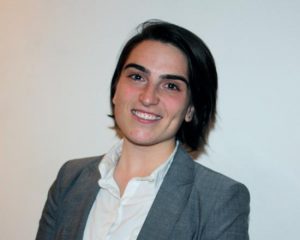 Nadia Galati
Planner and Engagement Specialist
ngalati@gladkiplanning.com
Nadia Galati is an urban planner and designer working in a variety of intersecting areas of planning, art, and design, including, placemaking, stakeholder engagement, land use planning, qualitative and quantitative research, user experience (UX) mapping, and creative city building. Through her work as an urban planner/design with Gladki Planning Associates, she creates participatory planning and engagement processes that engage different voices and communities in planning and art projects. Prior to working at as an urban planner/designer, Nadia worked in the arts and cultural sector as a curator, arts researcher and in arts education.